Non-Revenue Water
Non-Revenue Water (NRW) is not only a waste of precious resource but also causes economic, ecological and humanitarian damages.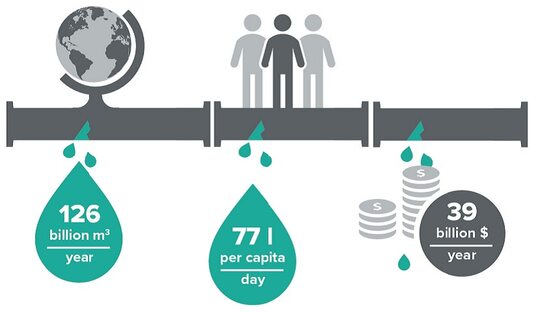 This global issue harms the environment by losing potable water, generates additional costs to utilities (production, maintenance, revenue losses) and can have consequences on service levels and water quality.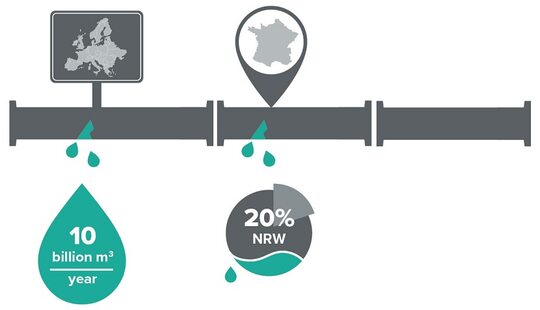 Locally, recent governmental policies and publications warn about the urgency to fight against the NRW phenomenon. All over the world, some issues are already identified: ageing of networks, reduction of consumption, price control.
The causes of Non-Revenue Water
NRW is not only leakage. It has an impact at all levels – from water abstraction to billing.
Causes are as diverse as they are complicated to identify and measure.
The factors for NRW are plenty. This makes NRW decrease a major topic to ensure the future of utilities.
Our solutions to tackle NRW
METER ACCURACY

Our experience and the reliability of our meters enable us to provide high metering performances, especially with extremely low or high flow rates. The installation of reliable and durable meters, and the ability to maintain accuracy over their entire lifetime, help set the records straight and decrease NRW.
Whether you're looking for a static or a mechanical meter, our entire range of meters provide measurements and data you can rely on.
In addition, with our range of ultrasonic meters, HYDRUS, and our mechanical meters ALTAÏR, you can have better due date insights of water consumption to improve billing accuracy and leakage detection.

AUTOMATED METER READ-OUTS

Records can be lost when completed manually or with deficient remote systems. But the major problem is to obtain due date consumption data in order to calculate a reliable Water balance which won't be based on estimated data. Utilities can streamline the NRW calculation and the billing process using our AMR / AMI solutions. Built on IZAR technology since 1996, our smart meters are able to transmit data in particularly challenging environments and climatic conditions.

INTEGRATED SMART FUNCTIONS / ALARMS INTEGRATED

Alarms embedded in our smart meters and in our IZAR radio modules help utilities detect meter tampering, illegal connections, leaks or broken meters. When configured as part of an AMI (Advanced Metering Infrastructure) solution, our smart meters send alerts in real time, enabling utilities to detect and to react quickly in order to prevent additional lost revenue.

IZAR@SMART WATER – Water Loss Management Application

This web-based software application is tailor-made to deliver a complete overview of your water network. Using data-driven analytics, water loss can be identified, checked and reduced using this innovative solution. Enabling truly sustainable water management, this application allows for workforce prioritization and enhanced optimization processes to be carried out. Furthermore, the application can support positive decision making, and make achieving your Non-Revenue Water targets easier and simpler.

IZAR@SMART WATER – Water Loss Management Application
More information
Contact us for a personalised analysis of your needs.
Customer cases
BRK Ambiental - Fixed Network

Serving more than 15 million people in 100 municipalities, BRK Ambiental is the largest private sanitation company in Brazil. As it set out to expand the supply of quality water and sewage services, the company faced numerous obstacles - including a shortage of reliable meters in Brazil.

Read more

Manila - Drive-by

Finding the process of taking manual readings from more than 1.2 million water meters in Manila increasingly problematic, the local water supplier, Maynilad, decided to install a reliable AMR system. Thanks to Diehl Metering's drive-by solution, the company managed to reduce its NRW losses from 61% to 29%.

Read more

Jamaica - Fixed Network

Jamaican water supplier National Water Commission (NWC) has found the perfect technology to cope with the challenging weather and environmental conditions in the Caribbean by implementing 50,000 HYDRUS ultrasonic water meters. The fixed network, which was also implemented in Long Mountain, is a step further in the process of digitalising the region's water supply.

Read more