It's important to me to work for a company where I can really make a difference. That's why I am with Diehl.
Vevői Referens (Nyírbátor)
Ezek az Ön feladatai:
kapcsolattartás a vevőkkel, illetve a társosztályokkal
vevői rendelések rögzítése, nyomonkövetése
rendelések visszaigazolása
kapacitástervezés
Ami a feladatok ellátásához szükséges:
felsőfokú végzettség
aktív, kommunikációképes német nyelvtudás szóban és írásban
jó problémamegoldó készség
ELŐNY: termelő vállalatnál szerzett tapasztalat és MS Office magabiztos ismerete
Helyszín:

Nyírbátor

Belépő szint:

Munkaidő:

Teljes munkaidő

Munkaviszony:

Határozatlan idejű

Alcsoport:

Diehl Aviation

Indulás:

a lehető leghamarabb
Már az első naptól kezdve felelősségteljes és fix helyed lesz a csapatban, amely segítséget nyújt a beilleszkedés során.
Achieve what matters, with Diehl.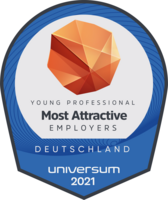 Adrienn Kovacs
Diehl Aviation Hungary
H-4300 Nyírbátor
Ipari park utca 9