IZAR@SMART WATER – Water Loss Management Application
Imagine you had a 360° view of your water network and knew instantly how to optimize its performance. The IZAR@SMART WATER – Water Loss Management application makes this a reality, supporting sustainable water management practices.

Want to know how to reduce Non-Revenue Water? This tool will be the centerpiece of your Non-Revenue Water (NRW) strategy.

Benefit from data-driven analytics and insights to evaluate, detect, monitor and reduce water loss. Drive your network performance, preserve water and contribute to a more sustainable future.
WLM features overview
Early water loss detection, reduction of Non-Revenue water (NRW), easy maintenance planning, quick and flexible reporting – all made possible by this one app: IZAR@SMART WATER – Water Loss Management (WLM).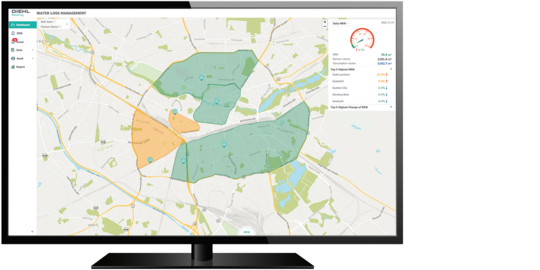 MONITORING WATER DISTRIBUTION NETWORKS
IZAR@SMART WATER – Water Loss Management (WLM) makes leak detection significantly faster thanks to clearly structured overviews with up to date information on the performance of each DMA in the network, threshold alerts for NRW, minimum night flow (MNF) and pressure levels. Smart water monitoring can now be a reality.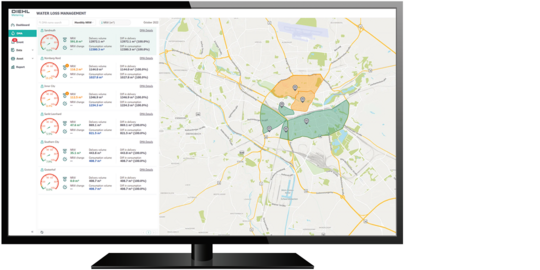 PLANNING MAINTENANCE EFFORTS
The WLM application enables the prioritization of workforce allocation and allows for effective water management plans to be readily established. Efforts can be directed to the DMAs with the highest overall losses, highest relative losses, most critical decrease in performance or largest delivery volume. As the app accumulates data over time, different time ranges for prioritization may be applied – weekly, monthly or yearly. But also short-term actions can be triggered, based on user defined alarms: When a given threshold is exceeded, the user is notified immediately and can respond in a timely manner.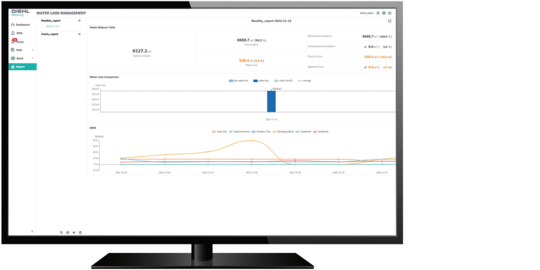 REPORTING NETWORK PERFORMANCE
Many utilities organizations are obliged to report to internal stakeholders and external regulators on a regular basis regarding their water management systems and other areas. These reports can be time-consuming, manual tasks, which involve collecting data from different sources, cleaning and combining them.
The WLM app offers the option of automated water loss reports for configurable time intervals. Thus, a report can be created easily and with minimal effort, either in regular intervals or on demand. For communication, the reports are exported as PDF files.
System requirements
Min. 2 Mbit internet connection
Min. screen resolution 1024 x 768 pixels
Web browsers currently supported (for Windows, Mac and Linux): Firefox, Chrome, Safari, Edge
Like to try IZAR@SMARTWATER – WLM application and reach new levels of water management?
Contact us now to get an appointment with our experts.